Author: Sikosis | Filed under:
HUMBUG
12th September, 2007 09:18 PM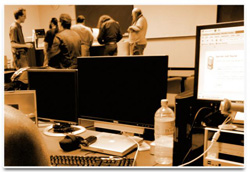 On the 8th September, I attended a local Unix user group called
HUMBUG
, at the University of Queensland, Brisbane, Australia.
This was their Annual General Meeting, which was very much an informal gathering of 34 unix users and with the
Haiku presence
we had, we definitely made an impression; certainly more people know about Haiku than yesterday, and that's gotta be a good thing.
Earlier that day when I was driving to the University, I got stuck behind this white hatchback, which had the license plate letters KDL. I thought, this was some sort of omen, however, I can announce there were no hiccups during the demos I gave.
For more of this article, head on over to the
Haiku Official Site
.