Author: Sikosis | Filed under:
Haiku News
5th August, 2010 09:02 AM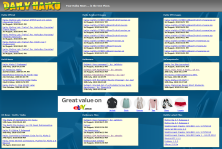 We've made a couple of changes over at Daily Haiku, in the last week or so. Most of these changes are to the backend, however, we've done some slight refactoring of the layout of the RSS feeds, as well as adding a few more.
For those of you unfamiliar with
Daily Haiku
, this site aims to be your one stop place for Haiku news. Whether it's from the official site, from the various news sources or file sites, developer blogs; it's all here.
So, if you feel you've been missed or if you have any other feedback, be sure to let us know.
Author: Sikosis | Filed under:
Haiku
3rd August, 2010 09:41 AM

Just to let you know, I've been working on the content and event itself for
Haiku Down Under 2010
. A
call for submissions
was posted on the mailing list, as well as several emails to individuals, but so far -- nothing yet. I guess they're all shy ;)
Anyway, we have the
netPanzer mini site
setup all good to go, with the information and files required. I've got the notes and code done for my Coding Session talk and half of the keynote speech done -- will have to work on the rest of that over the next week or so.
I have another session, which is highlighting one of the projects I wrote called
Rhino
and another session I'm working on, but having issues with it at the moment; so unless those issues are resolved, that session may need to be dropped.
18 Days to go ...